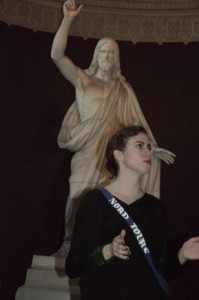 Welcome to Nerd Tours, Nina Søndergaard's one woman company dedicated to a more lively representation of the past.
I am a historian, but am also able to call myself archivist, researcher, illustrator, guide, lecturer and nerd.
My mission is to give you an exciting, fun and sensuous impression of the past – without doing away with the professionalism.
As one of my guests said, a city becomes so much more liveable when you know its history. Yes! History adds depth and perspective to a place.
You are able to hire me to do guided tours for your friends, family or company. The tours are also fresh air and food for thought – and a great after-conference treat.
By nerd, I mean a curious person who wants more knowledge about the world around him or her. A nerd appreciates facts and oddities. A nerd knows that learning is a lifelong process that never stops because the world is such a complex place.
So welcome all nerds, whatever your age, gender or specialty are, cleanse your eyeglasses and nerd with me!
Apart from the tours listed below here, I also do special tours. Like the one I did for High Councils of State of the Netherlands (National assembly, Ombudsman, Council of State and National Court of Audit). This tour was an introduction to Copenhagen with focus on some interesting legal aspects: Denmark has no architectural seperation of the three powers. The parliament, the supreme court and the state departement is all in one building…