– Herstory in Copenhagen.
For more women in public spaces
Historian Nina Søndergaard tells the story of Nina Bang (yes, quite a common Danish surname), the world's first elected female minister. And about the Ladies Hotel, The House of Women and Copenhagen's only statue of a queen – in the King's Garden.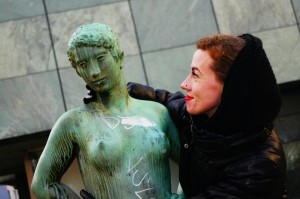 Where is Our Lady on The Square of Our Lady (Frue Plads)? What happened to the first female ph.D.? And what does it take to get more women out in public spaces?
By following some outstanding women we get through female history in Copenhagen on several levels: Education, politics, transport, motherhood and lesbianism.
Meeting pointFrue Plads, 12.57201, 55.6792 at the stairs to the university. We end up in The King's Garden, Kongens Have. All genders are welcome: Men, women, transgendered. The tour is mainly for adults, 15 years and older. Those who are older might appreciate that there are benches at some of the stops.
The walking tour takes some 75 minutes depending on the size, mobility and inquisitiveness of the group. Copenlady is open for debate – and delight!
If this introduction was not enough you might want to read this article in the Copenhagen Post. Spoiler alert!